Christian Bau and Artur Dieckhoff, editors, Zwiebelfische: Jimmy Ernst, Glückstadt – New York. Edition Klaus Raasch, 2011
A Zwiebelfisch will not be found in any bestiary of fabled sea creatures. It is a German printing term for a sort placed in the wrong compartment of the type case. It serves here as a metaphor for the situation of Jimmy Ernst who, as the son of the German painter Max Ernst and Lou Straus-Ernst, a Jewish art historian – and therefore in Nazi terminology a 'half Jew' – found himself in the wrong place at the wrong time. Born in Cologne in 1920 and christened Hans-Ulrich, Jimmy grew up with the increasing encroachment of Nazism into every aspect of private and public life. He wrote that by 1934 he was in no doubt that Germany held no future for him and his mother. (His parents had divorced in 1926 and Max Ernst had begun a dual career as artist and serial adulterer that ended only with his death in Paris in 1976.) Nevertheless, as a result of his mother's friendship with Heinrich Wilhelm Augustin, Jimmy began work in 1935 as an apprentice compositor at the Augustin print works in Glückstadt, near Hamburg.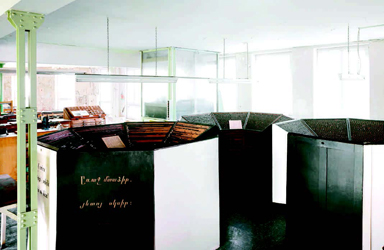 Photo © Candida Höfer, VG Bild-Kunst 2010.
The book and DVD under consideration here tell the three interconnected stories of the Ernst/Straus ménage, of Jimmy's life until his emigration to America in 1938, and of J J Augustin, foreign language printers extraordinaire, whose invention of the Chinese Circle greatly improved typesetting possibilities in that vexatious script. The book is a collaboration between four writers, each dealing with a separate but related topic, and also includes a long extract from Jimmy Ernst's autobiography, published in New York in the year of his death, 1985. Its wryly allusive title, Nicht gerade ein Stilleben ('not exactly a quiet life'), belies its power to entertain and instruct. Fittingly for the work of an artist-author, the book paints vivid pictures of the figures of his formative years, and particularly of his mother. A beautiful portrait of mother and son by the master photographer August Sander tells one everything about their relationship. Of his mother and her indomitable spirit, Jimmy wrote, 'She spoke constantly about the human spirit, and its celebration by writers, artists, composers and historians … Her optimism never faded, yet there was, now and again, an undertone of despair that our happy life together would be the last act of a play.'
She left Germany for France in 1933, and found refuge in Manosque in the south, where she lived under the protection of the writer Jean Giono. But in 1944 she was denounced, and taken on the penultimate transport from France to Auschwitz, where she was murdered.
But there is much humour in Jimmy's writing, which vividly recreates the sights and sounds of Europe in the 1920s and 30s. He made occasional visits to France, sometimes with his father and first stepmother, to see Lou and look at exhibitions. He recalls his first sight of Picasso's 'Guernica' in Paris in 1937. On one occasion, returning by train to Germany with a lot of German tourists, he notes down snatches of their conversation, mostly about their sexual exploits in Paris. And he continued to ask himself for many years afterwards if the huge laughing black American who had talked to him on a train had been Paul Robeson, a fellow Zwiebelfisch.
Jimmy was fascinated by the work at Augustin's. He describes standing for nine hours, learning to set languages like English, which he could not read, and developing a love of letters as shapes, until he was able to recognise the characteristics of the classic designs like Bodoni, Caslon and Garamond. He undoubtedly owed his life to Wilhelm Augustin, his employer, a man of great physical, moral and intellectual stature. He and his beautiful aristocratic wife Hedwig represented an 'older Germany', Goethe's country of liberal values. Not surprisingly, they detested everything Hitler stood for, and Wilhelm sometimes confided his concerns to young Jimmy. '"These swine have taken Pastor Martin Niemöller to a concentration camp", he muttered to me once, as he checked a proof I had brought him in the office.'
Jimmy had no doubt that it was Augustin who pulled strings to get the necessary exit permits and who funded his passage to America in May 1938. Two years previously Augustin had seen his own son Hans flee to America to escape trouble from Glückstadt's Nazis on account of his homosexuality.
The DVD, while using some of the book's material, is more concerned with telling the story of Augustin's specialisation in the use of 'exotics', or non-roman typefaces, and the invention of the Chinese Circle. Developed as a solution to storing and using the increasing numbers of Chinese characters which Augustin had acquired, the 'circles' are in fact octagons, in which the compositor stands surrounded by typecases. A number are extant in the preserved Augustin works, and are shown in the film. A sinologist explains their use and is shown proof-reading a text set in Chinese. Augustin's possessed, besides Chinese, types for the printing of Greek, Hebrew, Arabic, Coptic, Ethiopian, Tamil and Japanese. For scholarly texts in 'dead' languages, runes and cuneiform characters were also available. On the DVD, close-ups of many of these exotics are shown to the accompaniment of soothing music. As a trip through Alphabet Land it is utterly hypnotic and satisfying. For those curious people who find machinery exciting, there are shots of Monotype casters at work which are explicit, arousing, and leave nothing to the imagination. Chacun à son gôut. Augustin's also printed fine editions, many of which contained beautiful decorative material printed from zinc blocks with water based inks on Japanese paper. A delicious moment occurs in the film when one such sheet is peeled from the inked block.
The firm's demise came at the end of the era of commercial letterpress in the 1970s. The present owner, Walter Prueß, who signed on in 1951 – like Jimmy Ernst as a trainee compositor – is shown strolling nostalgically through rooms in which machines stand ready for use, and a comp's overall still hangs from the door near its owner's workstation. It is, says Herr Prueß, like Pompeii after Vesuvius had erupted.
Finally, one must mention the team that produced Zwiebelfische. The moving spirits behind book and film were Christian Bau, whose 1990 film about the Imprimerie nationale proved the entrée to filming in the Augustin works, empty and closed to the public for many years; Artur Diekhoff, one of Germany's best-known printmakers and typographers; and the book's publisher Klaus Raasch, also a distinguished printmaker, and founder of the printmaking workshop Schwarze Kunst in Hamburg. Among their collaborators, one must single out Candida Höfer for her superb colour photographs, taken in 2009, of the Augustin works, inside and out. The book, attractively designed in a non-classical format, is lavishly illustrated with, besides Höfer's work, photographs mainly from the rich Augustin archive.
I urge anyone who believes that Art and Life are indivisible, and that the acme of printing studies is not another book about Eric Gill, to buy Zwiebelfische, and to hope that an English edition will be published. My final memory is seeing and hearing Dallas Ernst, Jimmy's widow, in the film, interviewed on the occasion of her visit to Berlin in 2009. She was there to see her husband's paintings in the Neue Nationalgalerie. One felt that the Zwiebelfisch had at last come home.
Cased, with DVD, €48. The DVD (German/English version) on its own, €15.
Edition Klaus Raasch
Meldorfer Straße 22, 20251 Hamburg, Germany
www.edition-klaus-raasch.de