Oak Tree Fine Press is a fundraising initiative sustained by a double passion: an urgent desire to do something for children left destitute by HIV/AIDS, and a fascination with beautiful books. Given that fine press publishing isn't usually a massive money-spinner, it is hard to get a handle on this until you meet Bruce Howard, who owns and runs Oak Tree Fine Press from his home on the outskirts of Oxford.
Bruce is a workaholic. A South African businessman and a committed liberal, he sold his company fifteen years ago and for a decade worked closely with local children's shelters, managing various projects and developing fundraising programmes. According to UNICEF figures, some fifteen million children in Africa are either infected by HIV/AIDS or have lost one or both parents to the disease. Bruce's experience working with some of these children gave him an unforgettable insight into their struggles. When he finally emigrated to England with his wife, he was determined to continue his support.
In the course of his fundraising, Bruce had built up a relationship with John Coetzee, Nobel Laureate and double Booker Prize winner, who regularly signed books to be sold on behalf of the shelters. One day, while they were exploring ideas for fundraising, Coetzee suggested the possibility of publishing extract editions: brief limited edition books showcasing texts by the world's greatest living authors. On a purely practical level, he explained, copyright would be much easier to obtain. On another level, there was the potential to make something unique out of these books, to turn them into something in which the fragmented text would represent the potential of Africa's most vulnerable children. Coetzee offered to contact a number of authors regarding the possibility of their contributing, and so the idea of The First Chapter Series was born.
The First Chapter Series showcases the opening sequences from Booker Prize winning novels. Designed free of charge by a South African bookbinder, each volume in the series is hand-bound, slip-cased, and accompanied by a separate signed print featuring artwork from the book. Every copy is signed but the author's further involvement is optional. Some, like Coetzee, choose to leave the rest of the production process entirely in our hands; others have selected artists, written new forewords and even—in the case of Stanley Middleton—contributed their own artwork.
When I joined Oak Tree Fine Press, the series had a strong body of loyal customers, many from South Africa. Volumes I–V were already published, including the two Coetzee novels, Middleton's Holiday, Nadine Gordimer's The Conservationist, and Barry Unsworth's Sacred Hunger. They are a brightly coloured set, with artwork ranging from copper etchings to watercolour, woodcut to photography, much of it commissioned from up-and-coming African artists. I was fascinated by the challenge they presented to me, a lover of literature. Should the art be seen in the light of the full novel or was it to accompany the truncated text alone? How should I prioritise art and text in these strangely composed books? Later, I read Doris Lessing's Nobel lecture, in which she contemplates how rarely human talent is fulfilled, and describes a thirsty African woman taking comfort in torn-out pages from a copy of Anna Karenina. This made me view our First Chapter Series in a whole new light again.
Since I joined, we have produced another two volumes in the series, both featuring signed art by very high profile artists. A work by Turner Prize winners Gilbert and George accompanies Volume VII, Alan Hollinghurst's The Line of Beauty, a fascinating and very strong pairing. For Volume VI, we contacted Yoko Ono's gallery, asking if she would be interested in working with Oak Tree Fine Press. She responded positively, but rejected a number of proposed books before choosing to work on Margaret Atwood's The Blind Assassin. For this she contributed a line drawing, which we were permitted to sell separately in a larger format, earning valuable income for our target organisations. Bruce was later invited to Yoko's exhibition opening in New York, which proved an overwhelming experience. Lost amid a flamboyant crowd of admirers—including a young man wearing a full set of antlers—Bruce was suddenly introduced to a very glamorous Yoko and stammered out a rapid explanation of our work.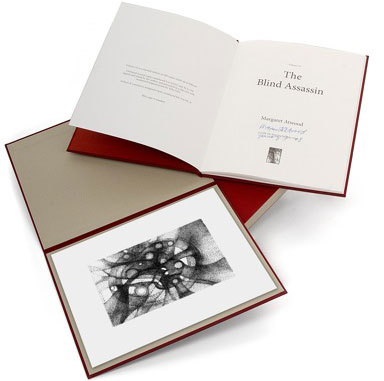 Maragaret Atwood's The Blind Assassin with a line drawing by Yoko Ono. Handbound in a slipcase with a signed print in a matching cassette. Oak Tree Fine Press.
With The First Chapter Series well established, Bruce was keen to explore new territory. In early 2008, we published The Spy Who Came in from the Cold, another extract edition, starting with the dramatic sequence in which British agent Karl is shot at the last minute as he attempts to cross the border into West Germany. Le Carré won a string of awards for this groundbreaking espionage novel, and we were delighted by the opportunity it afforded for a 'sensational' design approach.
Guided by Frank Atterbury and Jo Hilton of Hurtwood Press, we opted for a six-by-nine inch volume, set in Monotype Scotch Roman, a particularly beautiful transitional face. For the binding, we selected two designs: one quarter-bound in cloth on marbled boards, and one in dark grey leather with marbled endpapers. Bruce had seen some hand-marbled paper by Ann Muir in a paper shop in London, and we were keen to use a particular design in which veins of red and pale gold spread like blood on water over waves of concrete grey. The red matched perfectly with the vivid dustjacket of the novel's very first edition (Victor Gollancz, 1963) and we used the same shade for the title page and chapter headings, and for the cloth on the quarter cloth edition.
The book was something of a learning curve. In particular, it was difficult to know how the leather cover would turn out and last minute changes led to some delays. This was also our first introduction to the delights of 'tipping in' artwork, a tedious process which cast a small shadow over our appreciation of the book's frontispiece portrait, printed letterpress from a relief print by American artist Stephen Alcorn.
The success of the book has in no small part been thanks to the generosity of others. Stephen charged us nothing for his fantastic portrait. Book and Magazine Collector gave us two back covers in a row, for the price of a single inner page. Most moving of all was Ann Muir's generosity. In a deeply humbling email, she wrote to us to say that she would fulfill our commission free of charge: 'Forgive me,' she wrote, 'for not replying sooner. I am undergoing some chemotherapy at the moment.' Sadly, she passed away a few months later, and the book is a testament to her kindness.
On Not Winning the Nobel Prize is the first book in which I was involved from beginning to end. It was also our first experience of publishing a full text, and—even more exciting—a genuine first edition. The title is misleading: this is in fact Doris Lessing's Nobel lecture, written to mark her acceptance of the Nobel Prize for Literature in 2007.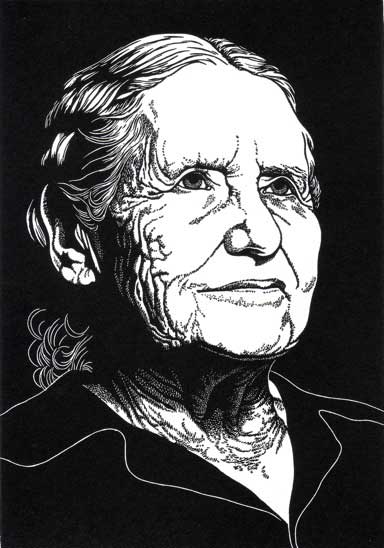 Portrait of Doris Lessing by Abigail Rorer. Wood engraving frontispiece from On Not Winning the Nobel Prize, Oak Tree Fine Press, 2007.
Lessing's lecture is peppered with vivid recollections of Zimbabwe and powerfully delineates how inequality shapes and limits modern human experience. It is also a passionate defence of the storytelling tradition, which her imagery aligns with water as a basic human need. As such, it seemed a particularly apt text for us to publish, and we duly sent off a request for copyright permission. In the middle of a flurry of newspaper reports in which Lessing complained about increased media attention, we were over the moon to receive a positive response.
Eager to create a book that would be suitably elegant without being pompous, we opted for an eleven-by-six-inch book on Zerkall paper with deckle edges. The printing was carried out by Phil Abel on his Heidelburg cylinder letterpress. As luck had it, his first job on the newly refurbished press had also been on Zerkall, meaning that we could benefit from the lessons learned! The text was typeset in Joanna, Gill's 'book face free from all fancy business,' which fit nicely with the long narrow pages.
I wanted a female artist to illustrate the book, but it was by pure luck that we stumbled across Abigail Rorer's work in an exhibition catalogue from The Society of Wood Engravers. The extent of our fortune was revealed when she delivered her frontispiece portrait, in which a range of expressions flicker across the author's face. We were delighted with her professionalism—she perhaps less so with ours!—and we are looking forward tremendously to learning from her and working with her on our next Nobel book. This will be Günter Grass' To Be Continued . . . , an acerbic and aggressively entertaining lecture.
I came to Oak Tree Fine Press looking for rewarding work, and it has exceeded all expectations. It is the kind of job you want just so you can tell people about it. Certainly I appreciate the sense of being in contact with the world's greatest authors and artists. Meeting Doris Lessing was, for me, tremendously exciting: standing on the first floor landing of her London home, her jumper raggedy and in holes, she looked strangely like one of my own aunts, perhaps because impatience, defiance, and a complete disregard for personal appearance are among my family's traits.
However, it is no less inspiring to meet the other less well known—and extremely talented—individuals who choose to contribute to our work, often at greater cost to themselves. For our next book, Andy English, Chris Daunt, and Harry Brockway have all created woodcuts at a generous concession, and our every effort is now focused on seeing how we can make a book that is worthy of their work! For future reference, the book is À Outrance ('To the Death') and focuses on the great bear fight from Philip Pullman's novel Northern Lights (published and filmed in the United States as The Golden Compass). It will be printed letterpress in a large format, with special editions on handmade paper. We are currently exploring options for cover designs, and have received a heartwarming flood of interest from the Designer Bookbinders Association.
Each of our books is a collaborative work, and everyone involved in them is inspired not just by artistic integrity, but by a desire to do their very best for the people who need it most. Each book contains a dedication to the child victims of Africa's AIDS crisis: the success of Oak Tree Fine Press is their success and I am very honoured to be a part of it.
Oak Tree Fine Press.
Tel: +44 (0) 7814 095783.
info(at)oaktreefinepress(dot)com.
www.oaktreefinepress.com