David Jury, ed. book art object. Codex Foundation, 2009. 432pp.
From the classical page designs of Petrarch Press to the bleeding-edge conceptual books of Julie Chen, book art object celebrates the work of some of the world's most accomplished printers, designers, and book artists. This ambitious inaugural publication from the Codex Foundation is one of the most extensively illustrated catalogues of fine press and artists' books ever published and without a doubt will become the standard reference on handmade books produced in the first decade of the twenty-first century.
book art object is also a splendid and thorough record of two major events: the first Codex Symposium and the Codex Book Fair. Both were conceived by printer and publisher Peter Koch, who wanted 'to bring critical thinking, the high standards of fine printing, and the floribundant artist book into single focus.' Thus the biennial symposium and book fair were born. The volume presents the full texts of each of the keynote speakers' presentations; images and descriptions of at least one book from each of the 120 book fair exhibitors, and essays by noted publishers and artists dealing with contemporary bookmaking.
book art object is a testament to Koch's belief that the book is an art object demanding the serious scrutiny enjoyed by other art forms. While probably none of the book artists and publishers whose work is represented in this 430-page catalogue would argue with that claim, getting the art establishment to take notice has been, and continues to be, an uphill battle. This has to do with a centuries-old misunderstanding. Most people are accustomed to thinking of books as utilitarian objects merely: convenient forms that deliver content. What is more, the crafts of printing and design seem forever to be beneath the attention of critics. In his book art object essay 'Black letter,' German book artist Markus Fahrner writes, 'Although everyone has handled a book in one form or another, not all understand what this strange creature "the artist's book" actually is.' Ditto the fine press book. book art object aims to open our eyes and minds to these 'strange creatures.'
For the book's hundred pages of essays and commentary, editor David Jury has drawn together contributions from scholars, printers, and artists, each offering a unique perspective on contemporary practice. Robert Bringhurst's 'Spiritual Geometry' is more of a philosophical meditation on the making of letterforms than anything you might find in The Elements of Typographic Style, but it is no less useful a piece for it. Here Bringhurst (Canada) examines the particular work of the letter-maker and demonstrates that the movement of the pen can tell us something about the nature of our being. Sarah Bodman (UK), provides an overview of contemporary artists publishing in the UK and Ireland. Felipe Ehrenberg (Mexico) looks back at his fifty-year career as an artist and his work at Beau Geste Press, while Dr Stefan Soltek discusses aspects of contemporary book arts in Germany. Additional commentary is provided by Crispin Elsted (Canada), Markus Fahrner (Germany), Jadwiga Jarvis (Australia), and Gerald Lange (USA).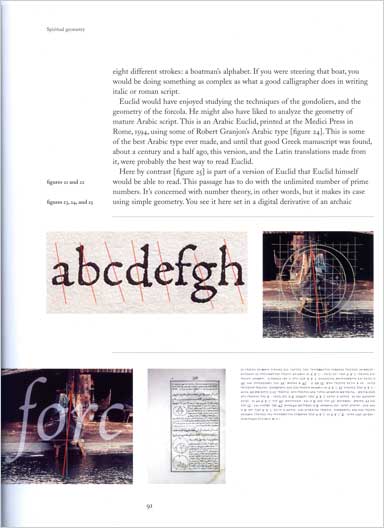 book art object presents the full texts of each of the Codex keynote speakers' presentations, images and descriptions of at least one book from each of the 120 book fair exhibitors, and essays by noted publishers and artists dealing with contemporary bookmaking.
The most important essay in book art object is David Jury's sweeping 7000-word history of the printed book from Gutenberg to the present moment. Jury, Publisher of Fox Ash Press, sees this history through the lens of a maker of finely printed books. While much of this history is oft-told—Bodoni, Baskerville, the Industrial Revolution, the Kelmscott Press—we see not only events but their repercussions among later book designers. This makes Jury's reappraisal all the more necessary to an understanding of contemporary bookmaking. Jury also looks to the future where the possibilities for artistic expression in the medium of the book look as good as they've ever been: 'Rules of style, method, and content,' he writes, 'will continue to be willfully, gleefully broken, rediscovered, and rewritten.'
As for gleefully rewriting the rules, Jury is dead right. The 250 pages of colour photographs show that structures, materials, bindings, and texts are all up for grabs, and there are even a few striking examples of 'books' in which there is virtually no text. But the imaginative energy and confidence with which publishers play with their materials and forms makes book art object not just an important reference, but a joy. Galvanized iron, cereal-box covers, sand-blasted borosilicate glass, ball-bearings, and meteorites (yes, meteorites) only begin to describe the unusual materials employed in some of these books. Conceptual/sculptural works like the Wide Awake Garage and Garage Annex School's Mars (see above re meteorites) rub shoulders with mischievous works like Sherwin Beach's Poisonous Plants at Table, a field guide to deadly plants of the English countryside, complete with menus for meals made with these plants. And the classics are reimagined in Petrarch Press's Thoughts from the Letters of Petrarch and Barbarian Press's Venus and Adonis.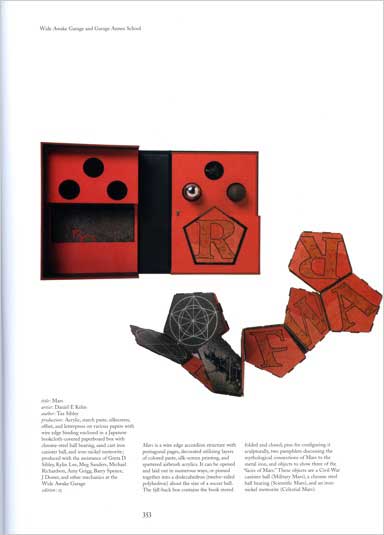 Gleefully rewriting the rules: Wide Awake Garage and Garage Annex School's Mars is displayed among over 200 contemporary fine press and artists' books in book art object.
book art object is the first in a projected series of titles from the Codex Foundation. Koch promises a follow-up volume that will document the 2011 Codex Book Fair. While reading book art object is no substitute for attending the fair itself—nor a substitute for reading or studying any of the hundreds of books on display—it is central to an understanding of the state of the art of fine bookmaking today.
---
Paul Razzell is the North American Editor of Parenthesis: The Journal of the Fine Press Book Association and Publisher of Inferno Press.