Purga tory Pie Press had a show at the New York Metropolitan Museum of Art's Watson Library in 1986, right after winning a grant from the New York State Council on the Arts. Now celebrating its 40th anniversary, PPP is one of the longest-running artist presses in the country. Recently, we were thrilled to speak at the Met library and display our work, and also very happy that the museum purchased our current tessellation books.
Dikko Faust founded Purgatory Pie Press in 1977 while studying with Walter Hamady. In 1978, Dikko moved to New York City to be the letterpress printer at the fledgling Center for Book Arts. Purgatory Pie Press merged with the EK Smith Museum, a museum of found art (including the Apron Collection), in 1980, when I married Dikko. Our wedding invitation was our first print collaboration—and Dikko's wood-type debut.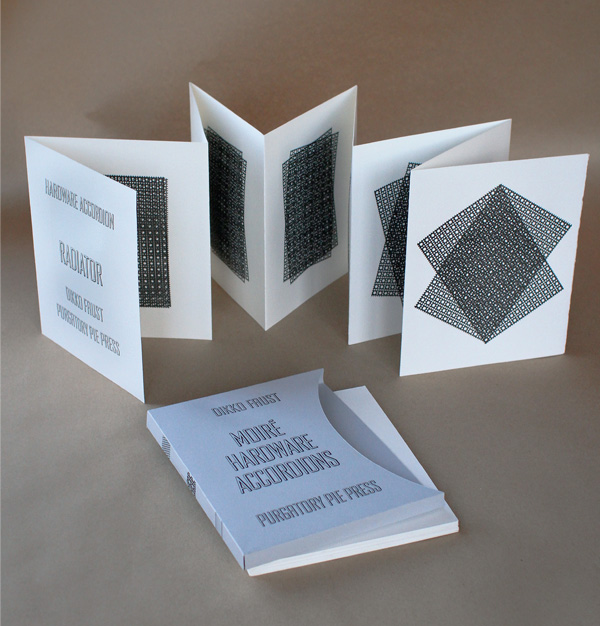 Dikko and I make limited editions and artists' books. We bounce things back and forth. First we talk about our concepts. I scribble ideas on paper. Dikko hand sets our wood and metal type and proofs the copy. I cut up the proofs and move the elements around on paper. Dikko arranges our design on the press and proofs it. I tweak spacing and adjust colors as the project emerges. I design the structures starting with limitations—e.g., the size of the press bed, the size of the paper. Dikko prints the wood and metal type on our Vandercook 4. I (along with our helpers) hand-stitch the books. Over the years, we have collaborated with more than 100 artists, and published a number of writers.
We have worked in series starting with small works—a series of signed and numbered limited-edition postcards. Each month we publish a different artist or writer, which we've sent to subscribers for 10 years, boxing sets at the end of each year.
The Victoria and Albert Museum library organized a solo Purgatory Pie Press exhibition in 1991. When I was showing slides at our talk, there with a crying baby, I thought, "We've made enough postcards." We started a series called Artist Tracts, and then did a series called Artist Coasters. Then when I had begun teaching a class called "Magic Books & Paper Toys," we made a PurgaToys subscription series. We also published individual books with artists and writers, making a series of books with math artist Susan Happersett, and forming an ongoing collaboration with London artists Bob & Roberta Smith.
In 2006, the baby who had cried at the V&A began carving linoleum—a two-color print of her vintage Doc Martens entitled "Kick in the New Year." We revived our small print series, making square postcards with her as a carver. By then, our older daughter had become a poet, so we wound up publishing more poetry.
We also began publishing 14- by 18-inch prints—and made a blind deboss series with Elizabeth Duffy.
In 2010, when Dikko was teaching non-Western art history, he found a blurry news photo of the oldest known wall painting. He observed the geometric pattern—a complex interlocking of red and black—and noticed that the white negative space echoed the pattern. His tessellation series of 12 prints, two books, and four miniature books took four years. His next series was an experimentation of hardware moiré patterns printed from found substrates.
This work is in collections of the Metropolitan Museum of Art, Cooper Hewitt National Design Museum, Museum of Modern Art, Whitney Museum, Brooklyn Museum, Walker Art Center, Tate Gallery of Modern Art, Getty Museum, the Smithsonian, and many other international museums and rare book libraries.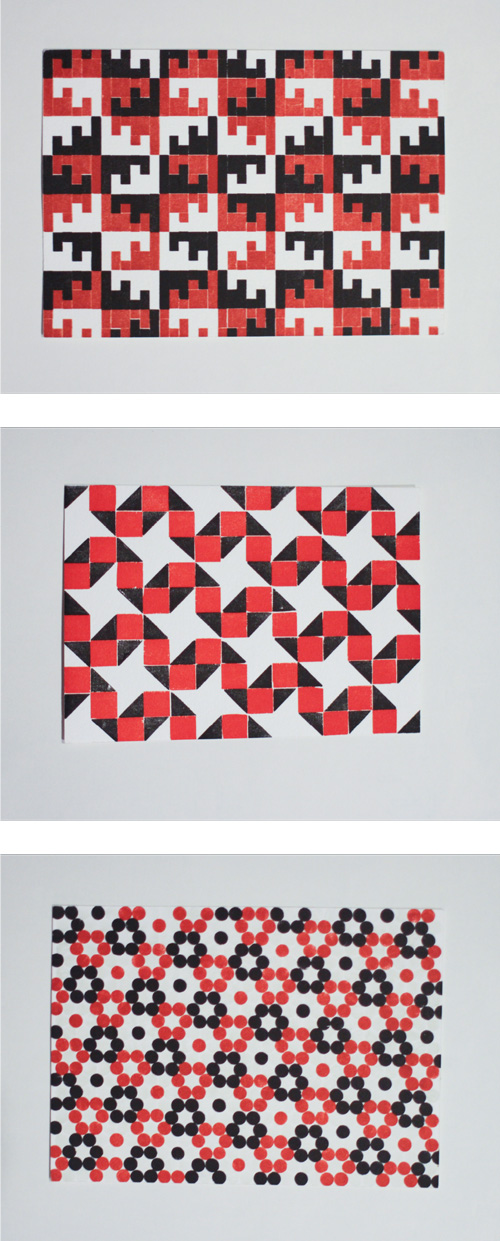 In 2006, I wrote and designed How to Make Books, and Dikko hand set the wood and metal display type for the cover and chapter openers. That book has sold 50,000 copies. Dikko's Type-O-Graphics continued in Magic Books & Paper Toys, The Paper Bride and Making Books with Kids. Bank Street Bookstore chose Making Books with Kids as its Best Children's Book of the Year for 2017 (a translation of it was recently published in Spain). In 2017, Rizzoli published my reprint of WH Page's 1874 Specimens of Chromatic Wood Type Borders, &c.
The How to Make Books exhibit, which began at my own Cooper Union book launch, traveled to Rhode Island School of Design, Pyramid Atlantic Art Center, Minnesota Center for the Book, Athens (New York) Cultural Center, Pratt Institute, and the Wright Museum of Art.
PPP's 40th anniversary show began at Asheville Bookworks in North Carolina, and eventually traveled to a medieval village outside Berlin. Some of that work was included in 205 Hudson Gallery's exhibit "Elective Affinities: A Library." While we were in Germany, Dikko printed wood type in four print shops. Back in the U.S., we hung these prints in a Tower of Babel installation and performance at Flux Factory's "Tongue Tide" exhibit in Long Island City.
Dikko Faust and I travel as visiting artists to museums, art centers, and universities. Dikko teaches letterpress at SVA. I have taught workshops at Cooper Hewitt Museum, the Smithsonian Natural History Museum, and the Museum of Arts & Design, and have upcoming workshops at the American Museum of Folk Art, Museum of Modern Art PS1, and Bard Graduate Center Museum. I also do yearly workshops and panels at the Brooklyn Book Festival.
People often ask how PPP got its name. Dikko named Purgatory Pie Press in 1977, on his first day in Walter Hamady's typography/letterpress class at the University of Wisconsin, when he pied (spilled) an overfilled job case of cold metal eight-point Century Oldstyle type.
Dikko sorted the spilled type for weeks that winter, often working through the night. He printed and bound his first two books and made the paper for his third.
After that he, and PPP, moved to New York City.