Mission, British Columbia, Canada: Barbarian Press, 2021 • xvii, 271, cclxxv–cclxxxi, [cclxxxii–cclxxxvii] • 10¾ × 7¾ in. (27.5 × 19.5 cm) • Standard state (53 copies) CAD $950; Deluxe state (72 copies) CAD $1,250. (USD $755; $990, as of March 2022) • http://www.barbarianpress.com/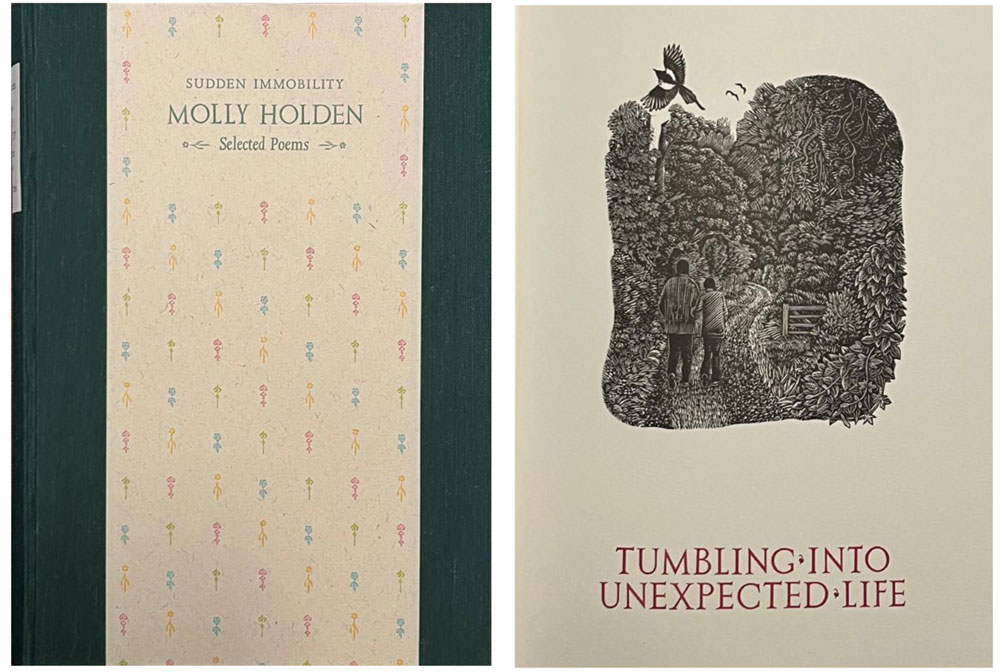 There are two central aspects of books: content and container. The reviewer of a fine press volume must consider both in equal measure.
This volume contains a generous selection of poems by Molly Holden, a British writer not well known in the US. Holden's Wikipedia entry contains only four sentences, totaling thirty-six words. And though the prospectus for this book says that "With Ted Hughes & Sir Geoffrey Hill, Molly Holden is clearly one of the foremost late 20th century British poets of nature and rural life," she seems to be obscure in the UK as well. The prospectus adds, "Molly Holden published five books of verse during her lifetime. The first two were small chapbooks, one of them privately printed, but the last three were volumes in the prestigious Phoenix Living Poets series published by Chatto & Windus, & were enthusiastically reviewed." Her death in 1981, a month before her fifty-fourth birth­day, was apparently occasioned by multiple sclerosis, the disease that first manifest itself when she was only twenty-seven.
In the volume's introduction, Crispin Elsted writes, "Among the many remarkable elements in Molly Holden's poems are [sic] her frankness about her growing incapacity and her absolute determination not to bow to it. Although she rarely dwells on her illness in itself, it is mentioned in many of her poems and forms a subtext in many others" (xv). In her poem "Illness," she boldly discusses "this disease / that feels like mist upon my fingers, like / a cold wind forever against my body, and / air and chill earth eternally about my bones" (189). In "Experimental twig" (203) she contrasts her life with that of a small twig that a child has planted. The twig gains weight as it grows and she is losing weight, "withdrawing / into small compass" she "has lost touch." Her poems—those before and, especially, after her diagnosis—reveal an observer of nature and the human life within it. She voices a sense of discontent with, and yet resignation to, her lot.
The verse, traditional in its rhymes or free, constantly surprises us with its insights and its sharp depictions of nature and the poet's inner world. Holden describes the foxes that "sniff the sills of kitchen doors (whose / guardian dogs inside sniff back and do not always / bark), lift their hind legs against the gumboots / in the porch to leave their trickling signatures" ("Randan foxes," 251).
That Holden is not better known is a shame since these poems are wonderful. Her work deserves such a carefully and diligently produced volume. The book is elegant and understated, like the poetry. Which leads to the container: The standard state is bound in half cloth with a beautiful patterned paper over the cover. The pattern is composed of four colors from four delicate fleurons (two of which are used for the title page, but in colors varying from those used for the cover). The paper spine label uses one of these fleurons. I mention this tiny detail to show the kind of meticulous and careful planning that went into this volume. Fine press printer Kim Merker said the binding should prepare the reader for what is inside, and this volume exemplifies this. The deluxe version is bound in half Morocco with patterned paper and a leather spine label. The volume is in a wrap­around portfolio (the same cloth over the boards as used on the book's cover), and the volume and portfolio are in a similarly covered slipcase—all beautifully produced. (I think it odd that there are nineteen more deluxe copies than "regular ones.")
The volume contains a three-color title page, 201 poems, an introduction and afterword by Crispin Elsted, and gorgeous wood engravings by Andy English. These images—at the frontispiece and at the opening to each of the book's sections—are superb. In the table of contents we are told that "The poems are arranged in nine thematic groups with a half-title derived from one of the poems in each section" ([i]); so we are treated to the nine woodcuts at these sections, another at the frontispiece, several other smaller ones dispersed through the volume, and a tipped-in photograph of the poet at the opening of the introduction ([xii]). The paper is Zerkall white wove, a sumptuous choice. The book has nearly 300 large pages, and with all type hand-set, it is a marvel that the volume is so reasonably priced.
Designing a text for poetry can be tricky. Line breaks carry meaning, so if a poet writes a poem with a long line, she does not want the printer to print it on two lines. With over 200 poems in this volume, it was inevitable that there would be both short and long lines. The printers have handled this beautifully by creating a large format with generous margins, and, for the most part, printing only one poem on a page (unless a poem was long enough to extend to two pages). The long line measure allowed every line to be printed with no break. The poem "Plague doctor" has one line extending to 28½ picas (about 4¾ inches) in length. Since the text was designed to allow this line to be printed unbroken (and on a page with generous margins), all the other poems sit comfortably on the pages, making for a congenial reading experience. The crisp, even impression renders the poetry and illustrations in impeccable form.
Thomas James Cobden-Sanderson, Beatrice Warde, Stanley Morison, and many others have said that typogra­phy should be, as Warde termed it, a crystal goblet: that the design of a page or of a whole volume should not get between the reader and the text. The printers at Barbarian Press, Crispin and Jan Elsted, say, "Our aims have not substantially altered since we founded the press: to publish poetry, translations, classics, and belles lettres in a style which both glorifies the text and reveals it to the reader with a minimum of interference" (see their website). The beauty and elegance of the present volume bears this out. From the slipcase to the colophon, and encompassing elegant page design, fine wood engravings, a revealing introduc­tory biography and afterword, and an attractive physical presentation, this is a handsome production: rich content in a beautiful container.