Gaylord Schanilec. Sherman Oaks, California: Ninja Press, 2019 • 24 pages; 11.75 × 7.50 inches • 70 signed and numbered copies; $575 • 8 lettered copies; hors commerce • http://ninjapressbooks.com
Departures is a small, beautifully constructed artist book that brings the poetry of creative writer, artist, and printer Gaylord Schanilec together with the photography and printing of Carolee Campbell of Ninja Press. This gem, while slim and unassuming, projects a thoughtful ele­gance. It provides a lens into geographical, historical, and environmental contexts that are connected to the human condition of life, creativity, love, loss, forgiveness, and regeneration.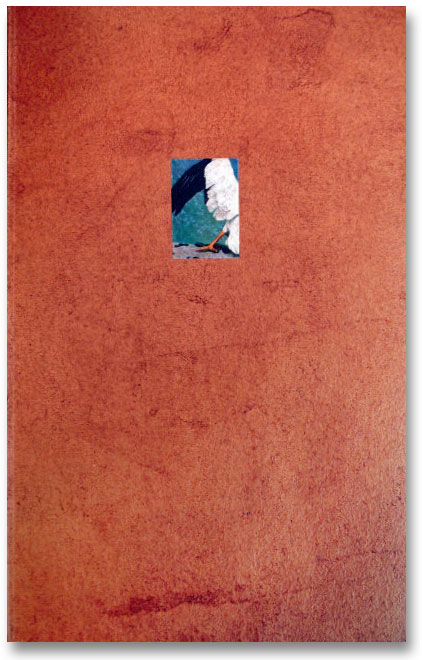 The volume was printed by Ninja Press and rep­resents the work of well-known master wood engraver and fine prose printer Gaylord Schanilec and his imprint Midnight Paper Sales.
Carolee Campbell of Ninja Press created the photo­graphs taken from Schanilec's original series of large-scale wood engravings of the American pelicans. Campbell's photographs were printed digitally on Japanese Nyodo Kozo-shi paper. The body type was designed by Justus Erich Walbaum circa 1803 in Germany, and the display type, Baker, was designed by Russell Maret in Rome in 2010. Both were set by hand, and letterpress printed on handmade paper made in 1986 at the Barcham Green Hayle Mill. The cover—"persimmon-washed" Belgian flax paper—is handmade from Cave Paper in Minneapolis, Minnesota. In addition to the photography, Campbell also did the book design, presswork, and binding, with bindery assistance from Farida Sunada.
Schanilec's early career was as a creative writer, though he has spent the majority of his career as a master artist, engraver, and printer. Schanilec is noted for his color wood engravings and in 1980 he established his own press, Midnight Paper Sales. He has published more than twenty-five books under his imprint, as well as accepted numerous commissions, including works for The Gregynog Press in Wales and the Grolier Club of New York. He has been the recipient of numerous awards including the Carl Hertzog Award for Excellence in Book Design and the Gregynog Fine Press Prize. He is an honorary member of the Double Crown Club and an active member of the Typophiles, the Ampersand Club, and the Fine Press Book Association. His work is represented in most major book arts collections in the United States and in the United Kingdom, and the archive of his working materials is held at the University of Minnesota.
I emailed Schanilec to talk with him about this new work and to gain some insight into his creative writing process. He replied: "I am glad you are writing about Departures. It was a pivotal book for me. Writing poetry was my first love, but it has spent most of this life in the closet. Departures was a 'coming out,' and Carolee's acceptance of the poems meant a lot. I love the way each book leads to the next."
As I reflect on this work of poetry, I'm reminded of the importance and depth of the creative process and how one might push back in one area and become a master in another; the richness of exploration and circling back is part of the artistic process and the growth of an artist.
Schanilec captures the heartfelt and fragile intercon­nections between human relationships and the built and natural environments. The analogy of the human condi­tion and relationship to the flight of birds within urban and rural landscapes is thought-provoking. The verse is hauntingly beautiful and has a floating sadness connected to the circle of life.
The view had broken in two:
a road of Swedish stones
the buildings along Spring Street
a margin of bare trees and beyond
the lake of frozen tears
I sit with the past in his painting.
They were in the park
he at his easel, she at hers
his formal oil studies
hers wild-lined pastels.
She died of suicide
and he of what was left.
[. . .]
There is something
in snow softly falling
that quiets the night—
her things in a box
in the basement
her scent lingering upstairs
her smile unbroken.
The rhythm of life is made visible through Campbell's photography of the American pelicans while Schanilec's text has an aural quality that brings together the diverse sounds of the physical environment—from the flutter of a flight of birds to the rolling sound of trains running. Departures is an examination of living that incorporates love, loss, resilience, germination, and creativity across the spectrum of a larger universe.
I highly recommend this work. For those who could not obtain the deluxe copy of his Lac des Pluers, this small volume provides access to some of Schanilec's imagery and thought-provoking poetry—beautifully executed by Carolee Campbell at Ninja Press.