On 5 May 2005, Vance Gerry lost his battle with cancer. Readers of Parenthesis are no strangers to his work. Vance Gerry provided the charming pochoir design of a young woman reading for the front cover of issue 1. In that same issue, Simon Lawrence wrote about collecting books by the Pasadena printer. Later, Vance contributed 'Esoteric Craft? Forget It', for Parenthesis 3, and wrote about Miriam Macgregor's New Castle, A Brief Encounter, for Parenthesis 4. Dennis Hall reviewed Vance's Jazz Instruments, 2003, in Parenthesis 10.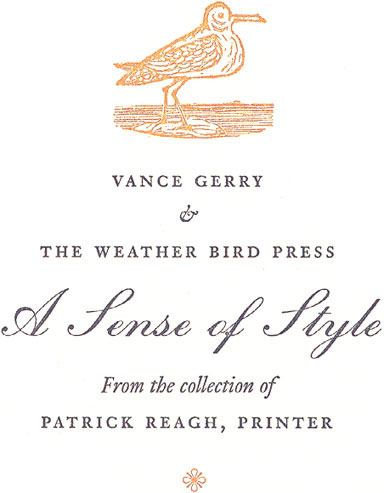 In addition to his quietly elegant printing and his delicately coloured line or pochoir illustrations, Vance was well known for having a keen sense of humour. For instance, in his catalogue, 25 Years of the Weather Bird Press, 1993, Vance described his printing equipment as '. . . a treadle jobber and a dirty Miehle vertical . . . a few fonts of chain-whipped type, a few homemade tables, and not least of all, a wreck of a Linotype machine, later discovered to have been built in 1912.' Famously, he could print with whatever equipment was to be had: '. . . a Model 8 Linotype; Caslon, Electra, Fairfield, Granjon and Janson matrices; Miehle vertical press, Gordon jobbing press; 15 and 20 inch Vandercook proof presses. . .' etc. Vance said that in 1968, he had established his press 'as a call of the soul,' and that after trying many names on for size he settled on naming it the Weather Bird Press because his friends 'Gerald and Sarah (Living Well is the Best Revenge) Murphy had the phonograph record by Louis Armstrong entitled Weatherbird ensconced in the keel of their yacht.'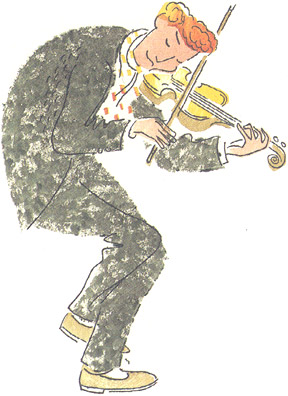 Vance Gerry was born in 1929 in Pasadena, a suburb of greater Los Angeles 'on the far Western edge of North America, the last frontier city of the New World to be civilized. . .' as Vance himself liked to proclaim. His introduction to printing came early. Bud Gerry, or 'Buddy' as he was then called (and how he despised that name), learned to set type by hand and absorbed the basic principles of book design at Grant Dahlstrom's Castle Press in 1942–43. As a lad of thirteen, Buddy was glad to work for forty cents an hour '. . . when there were jobs practical for boys to do …' His military service over, Vance made use of the GI Bill to train as a commercial artist at Woodbury College, at the Art Center for Design and the Chouinard Art Institute. In 1955 he joined Walt Disney as Visual Development Artist, that is, he provided layouts, created characters and coloured stills. Walt Disney's first rule of storytelling was CLARITY. The larger the audience, the more difficult it is to develop a story for animated films. So, Vance mastered CLARITY, contributing to Disney's 101 Dalmatians, The Jungle Book, The Aristocats, Robin Hood, The Rescuers, The Many Adventures of Winnie the Pooh, The Great Mouse Detective, Oliver & Company, Pocahontas, The Hunchback of Notre Dame, Hercules, Tarzan, Fantasia/2000, Beauty and the Beast and The Lion King. The lure of printing being never far from his mind, Vance printed humorous little pieces until 1967, when '. . . the novelty of ephemera wore away, no matter how cute. . .' It was time to establish his own press.
Vance Gerry's first book 'by an infamous and marvelously surreal artist from the Golden Age of Disney,' was Roy Williams. Vaporisms, consisting of nine numbered pages, 5 x 7 ¾ inches, published in an edition of 50 copies. Occasionally Vance used the pseudonym 'Bunny Quayles' or 'Bunston Quayles.' Part of the fun of being Vance Gerry was to have a mythical author provide text for his many cookbooks — as well as tongue-in-cheek commentary for more serious works.
San Francisco, over 500 miles north of Los Angeles, has its own Fine Press tradition and local 'printing stars'. One day, at Moe's in Berkeley (what Bay Area book collector doesn't know Moe?) I saw a copy of Lawrence Clark Powell's Madeleine; 1990. Enchanted by the pochoir illustrations, I wrote to Vance Gerry to tell him so. Would he come up to San Francisco for a retrospective exhibition at the Book Club of California? Vance's answer was a quick — 'Thanks — you can have the exhibition — I'll send you whatever you need, but — I don't travel'.
The last Weather Bird Press book arrived at the Book Club in March 2005, part of the annual Rounce and Coffin Club's exhibition of Western Books. It was a copy of Louis Seymour Jones, The Heart of the Bee, an excerpt from Put a Feather in Your Hat — nineteen pages, 4 ½ by 7 inches, set in 10 pt Sabon, leaded 4 points, printed on 80 lb Cream Classic Laid and bound by Mariana Blau. The Heart of the Bee is a pleasure to look at and to hold in one's hand. In the Rounce and Coffin Club's 64th Exhibition catalogue, Pall Bohne, who knew Vance for many years, wrote:
Vance was of that group of printers/publishers called the private press. He only got involved with projects he really wanted to do. And as a dedicated club member he was always ready to help out with printing jobs, which are necessary for a club to run smoothly. Many of the bookplates, invitations and award certificates can be traced back to Vance, his handset types and ornaments, his old letterpress printing machines, his linotype, and the wonderful illustrations he would draw or maybe handcut in linoleum or wood. He spent all of his working life as an artist the Disney studios in Burbank, California, and even after retirement he would go to the studio one day a week to offer suggestions to the new generation of artists there who were trying to create, with new computer tools, the old magic started by Walt Disney. I don't mean to say that Vance was comfortable with the new ways of drawing and animating by means of the computer . . . he was a direct link to the past . . . to the founders of the business of animated storytelling.
Several factors inspired Vance Gerry to become the undisputed 'Debussy of Pochoir'. Firstly, he admired the Curwen Press's Newsletter, and its stenciled decorations. Secondly there were Frank Maynell's stenciled work of the '30s. Lastly, the stills he, made at the Disney studios logically developed into stencil patterns. Vance used 0.05 Mylar for his stencils. His first pochoir designs were created when, again following the example of the Curwen Press, Vance published the first of his nineteen occasional newsletters — The Weatherbird. But the first 'serious application of pochoir' came about in M. F. K. Fisher, The Standing and the Waiting, 1985 — 125 copies printed, as Simon Lawrence says, 'with characteristic underinked type on soft paper.' A second pochoir book published 'in anticipation of notoriety but not fortune', was Lawrence Clark Powell's Madelaine, 1990, also 125 copies. It has three full-page pochoir illustrations, two half-page illustrations and portrait of the author/protagonist on the front wrapper. Some of these illustrations were reused in Twenty-five Years of the Weather Bird Press, 1993.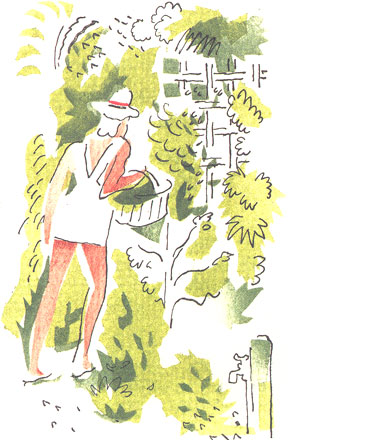 In 'Pochoir: Practical Watercolor Stenciling of Illustrations & Designs for Books, etc.' published in Matrix 8 and in Pochoir: Practical Stenciling for the Book Art, 1991, 50 copies, Vance explained and demonstrated his colour schemes and pochoir technique. We did plan to collaborate on a Big Book of Pochoir; but, tempus fugit — it did not get done. Miriam Macgregor described Vance Gerry's illustrative style as possessing
. . . two tremendous advantages. First, he draws beautifully, with apparent ease and versatility, and second he appears to know exactly what he is doing. The wonderful textures and varying intensity of colour results in a rich and exciting visual feast.
Vance Gerry admired the drawing style of Edward Ardizzone. In 1986 he reprinted Ardizzone's On the lliustrating of Books. It is a small volume, 4 ½ by 8 ½ inches, printed on Rives paper using 11 pt Scotch on a Vandercook press. Ten numbered pages, 200 copies — a little gem. Gerry's line drawings in the style of Ardizzone, exude delicate charm and a calligraphic wealth of detail.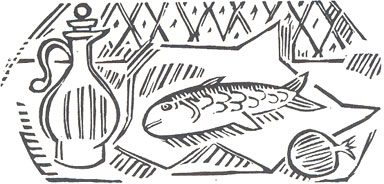 The Weather Bird Press is no more. Vance Gerry's long time friend, and fellow printer, Patrick Reagh, read the eulogy. Vance's many papers, drawings, books, etc., are now part of the William Andrews Clark Memorial Library, of the University of California, Los Angeles — 'on the far Western edge of North America, the last frontier city of the New World to be civilized. . . .' And yes, I finally did put up a retrospective exhibition — A Sense of Style: Vance Gerry & The Weather Bird Press from the Collection of Patrick Reagh; Printer at the Book 'Club of California, in San Francisco. It was on view from 28 November 2005 to 26 January 2006. Pat Reagh, who now lives and prints in rain-drenched Sebastopol, among Mann County's green fields and tall redwoods, brought boxes and boxes of Weather Press keepsakes, books and things. Vance's wife, Mary, did make the journey up from Pasadena. She told us that Vance also delighted in building children's toys — that he was most content when he was busy. 28 November 2005 was a happy and exciting evening. On view were Vance's earliest experiments in lettering and printing from when Grant Dahlstrom's Press was called the New Ampersand Press. There were memorabilia from Vance's association with Ward Ritchie and Gloria Stuart (of Titanic fame), an almost complete run of The Weatherbird Newsletter; a plethora of brochures, broadsides and advertisements, wonderful and very small miniature books, charming Christmas cards and informative letters, drawings, portraits and keepsakes. Of all Vance Gerry's books my own favourite has to be his swan song in pochoir, Jazz Instruments — a masterpiece of style and design which surely would have made Walt Disney chuckle. Patrick Reagh designed the announcement card in Vance's favourite typefaces and most elegant style. With great enthusiasm Pat related his experiences and their adventures in printing. He also played Louis Armstrong's 'Weatherbird,' for the spirit of Vance Gerry was with us that evening and I know he enjoyed the music. The evening was not over until Book Club members and friends made their way, in a violent downpour, to Sam's Restaurant — an old San Francisco classic dining establishment, where we drank many toasts to the memory of the gentle printer from Pasadena.
---
Professor Adela Roatcap is an art historian in San Francisco with a special interest in printing and pochoir.